A Bit About Bosch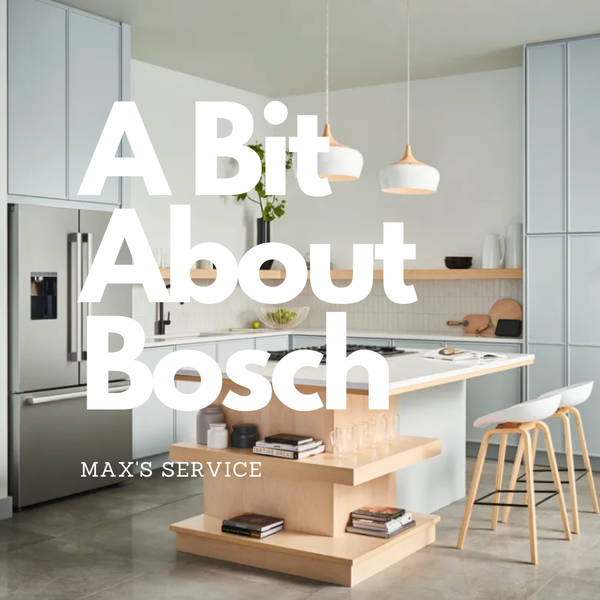 At Max's, we're very discerning about which brands we carry at our store. Simply put, if we wouldn't put an appliance brand in our home, we wouldn't suggest you should put it in yours. That dedication to quality is a big part of the Max's experience, and we want to take a little time to tell you about one of the brands that have made the cut.
Meet Bosch's Kitchen Appliances
Bosch is a brand that produces many products in a myriad of different industries. But Bosch shines when it comes to kitchen appliances.
Bosch offers top quality products for your kitchen, including:
Dishwashers

Ovens

Cooktops and Ranges

Refrigerators

Microwaves

Ventilation
The diversity of their kitchen offerings is truly unique within the industry. Paired with expert design and an clear emphasis on quality, Bosch kitchen appliances are an excellent choice for any kitchen design.
These attributes are a big reason why Bosch has been named America's Most Trusted Kitchen Brand 2019-2022.
Bosch: A History of Excellence
Bosch has been around awhile. Like, a really long while. It started in Stuttgart in 1886, and has grown steadily into a German business behemoth. It now employs almost 400,000 people globally, with products in four different business industries. From kitchen appliances to automotive parts and electric bicycle batteries, Bosch is a key player on the global manufacturing stage.
If you'd like to see Bosch's products up-close for yourself, stop by our showroom sometime. We carry a host of their premiere kitchen appliance offerings and can help you make the right choice for you and your dream kitchen design.
Share on Facebook