Delicious Breakfast Cookies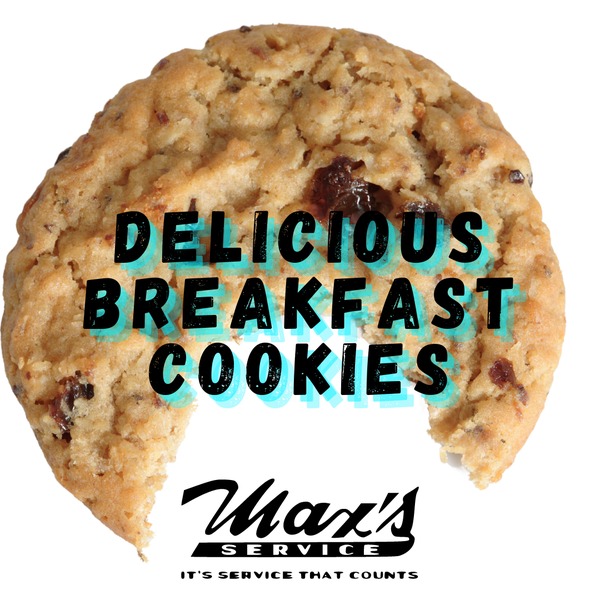 Breakfast can be tricky. From overly sugary cereals, repetitive oatmeal, pastries that pack more sugar than a can of pop, and having kiddos who simply won't stomach the idea of eating before school, there are a lot of people to please. Here's the recipe that makes everyone happy!
Breakfast cookies. We know what you're thinking; weren't we trying not to rely on sugar? Don't worry, it doesn't take much. Using some elements of recipes already out there and doing plenty of tinkering on our own, we've got a recipe that reduces added sugar without taking anything away from flavor!
That first meal of the day does matter. There's ample evidence that eating breakfast does a lot for your overall health, including helping manage weight by boosting your metabolism. Interestingly, those who eat a balanced breakfast tend to take on fewer calories over the course of the day. They're also less likely to opt for higher-calorie foods at other mealtimes.
For kids, breakfast also can play a big role in their scholastic pursuits. In numerous studies, scientists have proven that those who eat breakfast are more ready to learn, show improved ability to focus, exhibit fewer behavioral and emotional distress, and have higher math scores.
That's why having something they can eat is perhaps the most important thing; experiment with different options to keep them happy, but don't let them wander away from the table, even at the expense of vociferous protestation.
These cookies should help. A few notes on what we've done differently:
-Ax the sugar. Instead of the 1-1.5 cups of sugar most breakfast cookies call for, add in a half a cup of raisins and plenty of cinnamon. The raisins have plenty of natural sweetness, and cinnamon tends to register in the brain as a sweet flavor as well, without actually contributing to the amount of glucose. You can also get a similar effect out of unsweetened coconut flakes.
- Go bananas. Similarly, adding 1 or 2 softened bananas can really up the flavor and add a very soft texture to the cookie as well. Just make sure the bananas are well mashed and evenly distributed in your batter; no clumps!
-Butterless. In our experience, you don't need to add the butter or margarine. In fact, we've found that about ¼ cup of vegetable oil is plenty if you're trying to keep this recipe vegan.
-Make It Yours. These cookies make it easy to make it yours and make it different. We've tossed in sunflower seeds, crushed cashews, flax, chia seeds, almond butter, peanut butter, and all sorts of other things to make each batch a little different than the last!
Ingredients
3 cups old fashioned oats
½ cups sugar (see options below for substitutes)
2 cups all-purpose flour (or a flour of your choice)
1 teaspoon baking soda
2 teaspoon vanilla extract
2 tablespoons cinnamon
2 eggs (use ¼ of vegetable oil instead if vegan)
1-1 ½ cups milk (non-dairy if vegan)
Sugar Subs
½ cup raisins
½ cup coconut flakes
¼ cup maple syrup
-Preheat oven to 375.
Mix dry ingredients in a large bowl. Add in eggs (or vegetable oil), stir, and add milk in small pours as needed to create a soft batter. Use a spoon to place on a cookie sheet. Bake for 10-12 minutes. Cool for two minutes then remove from pan. Recipe yields approximately 10-12 cookies.
Here are a few more great recipes to try!
Share on Facebook