How To Pick The Right Grill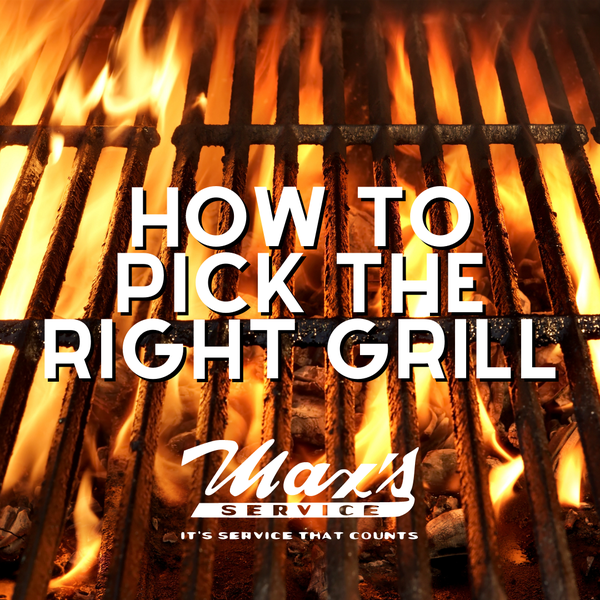 It's summer. Well, it's close enough, that has a lot of our customers getting really excited for a new grill. Let's get fired up!
There are few things as enjoyable as firing up the grill and getting the family together for dinner. While we love grilling all year long, it's certainly different when we can set up on the patio and make the most of sun, warmth, and one of the most underrated tools in the world of cuisine. With a little practice, you can make just about anything on the grill, from pies to pork loin and cake to kebabs. But which right is right for you? Here's how to pick the right one.
First, give yourself some real estate. The bigger the cooking surface, the more you can prepare at one time, the importance of which will become apparent when there are a bunch of hungry faces staring up at you from the picnic table. As a general rule, look for about 100 square inches per person, so a family of four would need a grill that's at least 40" wide and long, though most will be wider.
Second, it's gas versus charcoal. This is a debate that sparks strong opinions, and we won't push you in either direction. Still, each has some obvious pros and cons that might suit you better or worse. For gas, it's convenient. Lighting a gas grill takes seconds and they typically warm up much more quickly. They're often easier to control in terms of temperature, which may let you do more with your grill outside of just tossing on burgers or hot dogs. Charcoal's biggest plus is the flavor; as a fuel, charcoal imparts a strong flavor that gives any food that strong, summery, barbecue taste we associate with grilling.
Nationally, gas edges out charcoal, with eight million sold in 2013 against five million charcoal grills sold in the same year.
In addition to a big cooking surface, there are two key things to look for no matter what your fuel source. A grill cover is by far the best way to protect your investment whether you spend $100 or $3,000, so finding the cover that fits best and can hold up against rain and cold. Along with a cover, grab some specific metal tools like a spatula and a wire brush. Finally, make sure there's some shelving or surface to put tools, foods, dishes, and more close at hand. Many grills offer a small fold-down, flip-up surface for this exact purpose, some of which may even offer a griddle.
At Max's, we're huge fans of Weber Grills. For quality and durability, there really isn't anything better. We also offer free delivery and free assembly on all grills $499 and up, so let us help you choose the right grill and make getting it on your patio easy!
Share on Facebook