Meet a Max's Brand: Frigidaire's Long History of Innovation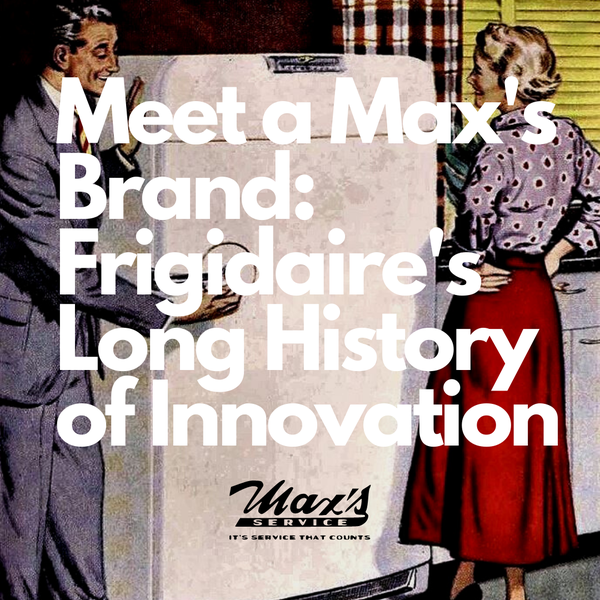 Quick trivia question: What is the most important company ever to come out of Ft. Wayne, Indiana? To be fair, naming any company based out of Fort Wayne might be tough (no disrespect), but this is one of the most recognizable home appliance brands in the world. Odds are, you've had or used a Frigidaire refrigerator in the last month.
Frigidaire's Beginnings
Started in Fort Wayne in 1918, the brand is one of the oldest home appliance companies in the world. The company's original business products were greatly enhanced when William C. Durant invested in the company in the same year the company was founded. Durant made his fortune as a founder of General Motors, which signified substantial financial muscle to help the company get off the ground.
Consumer Market Products
Frigidaire's initial product was incredibly transformative. The home refrigerator revolutionized how the average consumer purchased their food and fed their families. As this technology was adopted by wealthy and then middle-class consumers, the refrigerator became a signifier of middle-class status. Frigidaire was easily one of the most popular brands.
In fact, the brand was so ubiquitous in the first half of the 20th century that Frigidaire was synonymous with the word refrigerator for decades. In France and French-speaking parts of Canada, that remains the case to this day.
Frigidaire is So Much More than Refrigerators
This innovative brand didn't hang their hat solely on refrigerators, of course. They were also the first to design, manufacture and sell at-home food freezers as well. Using a similar technology found in their refrigerators and freezers, they also made the first room air conditioner.
Another product that was immensely important in the company's history is the washing machine. Frigidaire revolutionized the market with the production of their first washing machine, an automated, timer-based unit that was the pinnacle of the industry at the time. Although production was halted due to World War II, the line was introduced in 1947 and sold exceptionally well to America's growing middle class.
Frigidaire Today
The company was owned by General Motors from 1918 through 1979 before being acquired by White Consolidated Industries. It was then purchased by Electrolux in 1986 and remains under this parent company to this day. Frigidaire's global headquarters is now located in Charlotte, North Carolina. The company still has several manufacturing locations in the United States; it opened a new cooktop manufacturing plant in Memphis, with another plant in Springfield, Tennessee. Since 2005, it also operates a manufacturing plant in Northern Mexico.
Max's is so proud to carry this American brand that combines a tradition of quality with an innovative spirit. Stop by or call to learn more about Frigidaire's appliances.
Share on Facebook