Spice Up Winter: Black Bean and Sweet Potato Quesadillas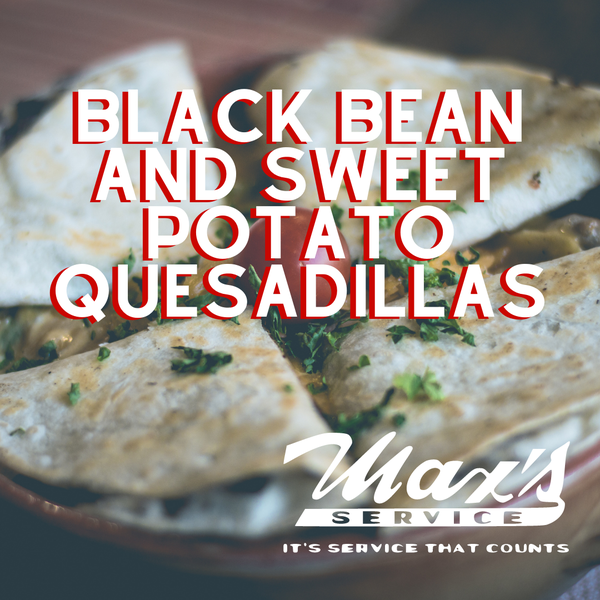 It can be tough to think of new dishes this time of year. We're in a months-long winter rut, and after putting in some big efforts in the kitchen over the holidays, our enthusiasm for putting together complex dishes might be getting a little exhausted. But don't worry; there's hope.
Because there are quesadillas.
Growing up, we had parents that were often home rather late in the evening after a long day of work. Hungry well before they arrived through the door, we'd take it upon ourselves to make dinner. Originally, the evening menu rarely expanded beyond either cereal or toast, and perhaps the occasional grilled cheese, but even those staples get boring for a teenager. Our forays into quesadillas began as sophomoric efforts of convenience. At first, it was simply a tortilla folded in half over a few slices of cheddar cheese.
We grew. We adapted. We figured out that there were seasonings, flavors, and better ways of preparing a spicier, more flavorful meal that wasn't that much more work. Over the years, the recipe changed and flexed, incorporated more ingredients, and ultimately changed into something we still whip up rather regularly for our families.
This recipe eliminates meat, but if you do want to introduce beef or chicken, it works just as well. Because of the fresh taste of cilantro, chicken seems to be a bit more conducive to fitting in with the recipe as we have it here, especially if you have some relatively unseasoned leftovers.
The full recipe, which is a lot like what we cook at home, is here.
A few tips, too. The original recipe calls for shredded cheese, but if you're looking to reduce calories or skip the dairy, there are some relatively easy recipes to make your own vegan cheese. One of the easiest calls for potato and carrots, plus brewer's yeast, to make a cheese that can last in the fridge for four to five days, as well as be frozen for longer storage if necessary. This might be a good one to make ahead of time so it's handy when you make your quesadillas.
What are your favorite dishes to get you out of a funk? Let us know!
Share on Facebook