The History of Egyptian Flatbread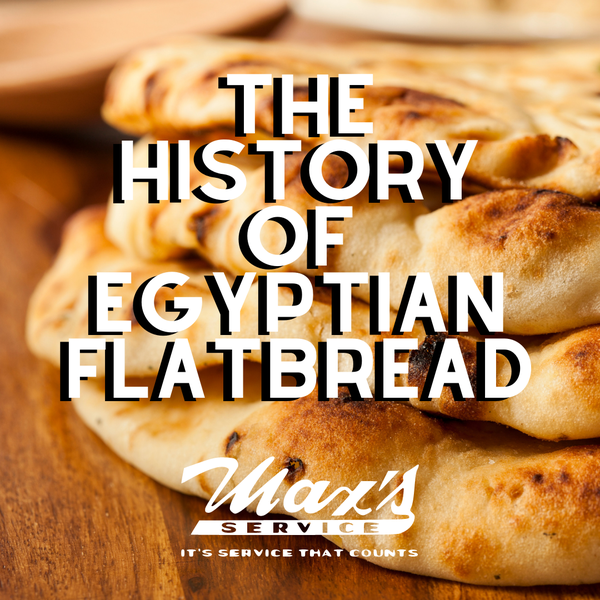 Bread has been a staple of the human diet, and the human experience, for thousands of years. It's such a vital part of life that it plays a role in our stories, our symbolism, and in the cultures of nearly every civilization that's ever existed. Since man first began to grow and harvest grain, we've relied on bread.
Like so many other crucial and ancient foods, the first examples of bread are murky at best. Most experts agree that the earliest cultivation of grains, mostly likely wheat and barley, were of wild varieties. Cultivation may not even be the right term; in fact, it's believed roaming bands of humans would spot concentrations of wild grains and use them on the spot. Over time, they may have created seasonal settlements near these fields of wild grains, eventually playing a more active role in their growth cycle and cross-breeding better species and, ultimately, turning to a domestic, agrarian society.
Perhaps the best example of how important grains were for some of the most successful and advanced societies comes from Egypt. Bread has been a way of life for thousands of years. In many ways, bread was the common thread across ancient Egyptian culture; pharaohs and peasants ate the same bread, often with the same recipe. Laborers would often rely almost entirely on bread for their meals, mixed occasionally with vegetables, other grains, olive oil, spices and herbs, and a rare side of meat.
Wheat was so important that it served as currency in urban centers for thousands of years. It wasn't simply an ingredient; it was a national concern, with community leaders requiring long-term stores of wheat to stave off starvation in the event of natural disasters or droughts. Like everything else, the success of the harvest relied heavily on the Nile River's annual flood; the waters would leave behind nutrient-rich silt that would be supplemented by ingenious irrigation systems and water crops, during one narrow slice of the desert into a rich, green, and bountiful oasis.
One ancient variety of bread in Egypt is called aish baladi. This bread was made from an ancient type of wheat called emmer or, less often, barley. Loaves would be made in clay ovens crafted from the mud of the Nile; in Egypt, everything comes back to the Nile. Aish baladi was the great unifier in a nation of tremendous wealth and tremendous poverty. For many working-class Egyptians, the loaf of bread might be their only meal of the day; farmers working in the field would often bring their loaf with them and rip pieces off to snack on. An evening meal might consist of more bread dressed in honey, spices, or olive oil, with a cup of tea.
Creating your own aish baladi is a relatively easy and interesting way to reach back across the centuries, but it's something that modern Egyptians still eat at home and in crowded Cairo markets to this very day!
Here's about as close to an authentic recipe as you might find away from the shores of the Nile!
Time: 35 minutes
Ingredients
1 tbsp. active dry yeast

2

1

⁄

2

cups water, heated to 105º

5 cups whole-wheat flour, plus more for dusting

1 tbsp. kosher salt

1 tbsp. vegetable oil, plus more for greasing

Cracked wheat bran for proofing, optional
Instructions
In a large bowl, whisk the yeast with the water and let stand until foamy, 10 minutes. Add 2

1

⁄

2

cups of the whole-wheat flour and stir until smooth. Cover the dough with plastic wrap and let stand for 30 minutes.

Uncover the dough and, using your hand, stir the salt and oil into the dough and then add the remaining 2

1

⁄

2

cups whole-wheat flour and mix until the dough comes together. Scrape the dough onto a lightly floured work surface and knead until smooth and elastic, about 10 minutes. Place the dough in a large bowl greased with oil and cover with plastic wrap. Let stand until doubled in size, about 1

1

⁄

2

hours.

Place a baking stone on a rack in the oven and heat the oven to 500° for 30 minutes. Meanwhile, punch the dough down and divide into 16 equal pieces. Roll each piece into a ball and then flatten into a 5-inch circle. Lightly sprinkle the cracked wheat bran, if using, or more whole-wheat flour over 2 parchment paper-lined baking sheets. Divide the dough circles between the baking sheets and loosely cover with a kitchen towel. Let stand until slightly puffed, about 30 minutes.

Working in batches, place the dough circles on the hot baking stone, spaced 2 inches apart, and bake until puffed and lightly charred in spots, 6 to 8 minutes. Transfer the breads to a rack and let cool for 5 minutes before serving.
Share on Facebook