Three Delicious Beach-Ready Snacks For Summer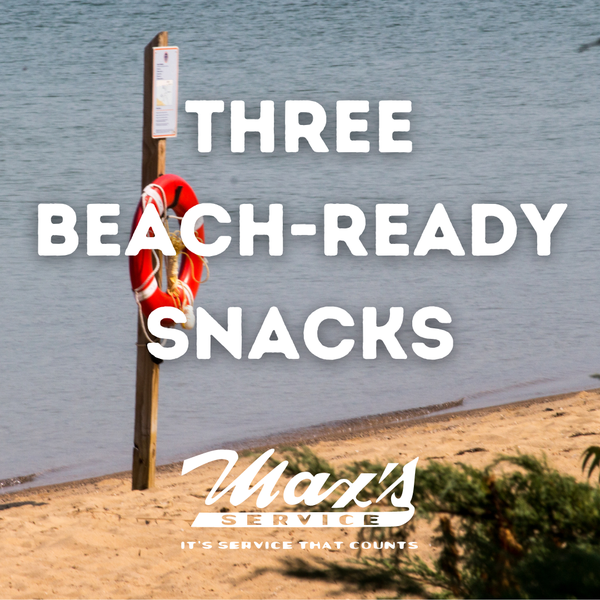 School is out, and that nice pile of paid time off you've been saving up is ready to burn. It's time for a beach day, and we've got three treats to bring with you!
Of course, we're very partial, but if you ask us, there's no better place to be than northern Michigan in the summertime! One of the many, many perks to living here is that no matter where you live, you are never far from a beach. Many of us can access a world-class beach on foot or by bike, but even a fifteen minutes drive is often all it takes to get our toes in the sand. When you get there, you're going to need something to snack on. We put together three of our favorite beach-ready treats!
A Hearty Meal. Staying on the lakeshore a while? Show up ready! We're huge fans of making food for the week and scooping out what we need as we need it. For a trip to the beach, there's nothing easier than bringing a big dish of quinoa salad. It's satisfying, healthy, and, at least in this version, remarkable refreshing on a hot summer's day. This is a Greek-inspired recipe that calls for lemon juice, feta, and olives but feel free to mix and match flavors you love and simply what you have in the fridge. The two ingredients you won't want to skimp on are sunflower seeds and parsley; they really add texture and make the lemon really pop!
Pickle Wrap Dip. What do you bring to the beach? Most of us have a bag of chips around, but with this amazing pickle wrap dip, you'll be reaching for sliced veggies, pretzels, or anything edible until all the dip is gone. You'll notice this is not vegan; it's a cream cheese-based dip that also calls for corned beef. It's the namesake pickles, however, that really give this dip flavor! Our favorite dip-delivery system is a plain bagel chip; so good!
Local Cherry Salsa. There are loads of roadside stands and small shops that carry delicious cherry products from local farmers, but if you feel like making your own, we've got an easy and satisfying cherry salsa recipe for you! Most local cherries aren't actually available until mid to late July, just after the famous National Cherry Festival. Unfortunately, reports indicate 2021 might be a light year for the cherry growers, so once you see cherries, buy them quickly! This cherry salsa recipe is great for snacking on chips at the beach but can also be used to add a lot of flavor to ribs, burgers, or really anything on the grill!
Traverse City is all about life on the water, and it shows. We recently took home the coveted title of Best Lake Town in the United States! Someone needs to compile a list of all the lists we're ranked at or near the top of. Summer is just getting started, and we hope you'll choose Max's when it comes to choosing the appliances you need to create the great meals that bring people together for wonderful memories!
Share on Facebook